Antigua and Barbuda Visa Free Countries List
Known for its stunning beaches and crystal-clear waters, Antigua and Barbuda offer a tropical paradise for visitors. Antigua, the larger of the two islands, boasts historical sites like Nelson's Dockyard and English Harbour, showcasing the nation's colonial past. Barbuda, on the other hand, is renowned for its untouched natural beauty and the Frigate Bird Sanctuary, home to a diverse array of bird species. The islands provide a range of activities, from water sports and snorkelling to exploring vibrant coral reefs. With a warm and welcoming culture, Antigua and Barbuda is a popular destination for tourists seeking relaxation, adventure, and a taste of Caribbean charm.
Antigua Passport Visa-Free Countries
VISA-FREE TRAVEL

Country
Country
Albania
Andorra
Austria
Bahamas
Barbados
Belarus
Belgium
Belize
Bosnia and Herzegovina
Botswana
Brazil
Bulgaria
Cape Verde
Chile
Colombia
Costa Rica
Croatia
Cuba
Cyprus
Czech Republic
Denmark
Dominica
Dominican Republic
Ecuador
El Salvador
Estonia
Eswatini
Fiji
Finland
France
Gambia
Georgia
Germany
Greece
Grenada
Guatemala
Guyana Haiti
Honduras
Hungary
Iceland
Indonesia
Ireland
Italy
Jamaica
Kiribati
Latvia
Lesotho
Liechtenstein
Lithuania
Luxembourg
Macedonia
Malawi
Malaysia
Malta
Mauritius
Micronesia
Moldova
Monaco
Montenegro
Netherlands
Nicaragua
Norway
Panama
Peru
Philippines
Poland
Portugal
Qatar
Romania
Russian Federation
Saint Kitts and Nevis
Saint Lucia
Saint Vincent
San Marino
Serbia
Singapore
Slovakia
Slovenia
South Africa
South Korea
Spain
Suriname
Sweden
Switzerland
Tanzania
Trinidad and Tobago
Tunisia
Uganda
Ukraine
UK & Crown dependencies
Vanuatu
Vatican City
Venezuela
Zambia
Zimbabwe
–
Requirements for Visa-Free Travel to Antigua and Barbuda Passport Holders
To enjoy visa-free travel to Antigua and Barbuda, there are certain requirements that individuals must meet. Here are the key factors to consider:
Citizenship: In order to benefit from visa-free travel to Antigua and Barbuda, individuals must hold citizenship of the country. This can be obtained through various means, such as the Antigua and Barbuda CBI program or by birth or descent if eligible.
Valid Passport: A valid passport is a fundamental requirement for international travel, including visa-free entry to Antigua and Barbuda. The passport should have an expiration date beyond the intended period of stay in the country.
Duration of Stay: While visa-free travel allows individuals to enter Antigua and Barbuda without a visa, there are limitations on the length of stay. It is important to adhere to the maximum allowed duration specified by immigration authorities.
Purpose of Visit: Visa-free travel generally applies to tourism, business, or short-term visits. If individuals intend to engage in activities such as employment, long-term studies, or residency, additional permits or visas may be required.
Return or Onward Ticket: Immigration authorities may request proof of a return or onward ticket as evidence of the visitor's intention to leave Antigua and Barbuda within the allowed period.
Entry Requirements: While visa-free entry is granted, visitors must still comply with entry requirements, which may include presenting a completed arrival/departure card, undergoing immigration and customs procedures, and meeting health requirements, if applicable.
Antigua & Barbuda Travel Visa-Free Tips
To ensure a smooth trip to Antigua and Barbuda under the visa-free regime, travellers should plan their itinerary in advance. They should familiarise themselves with the local customs, traditions, and laws to ensure respectful behaviour during their stay. It is recommended to carry essential travel documents, such as travel insurance, hotel reservations, and emergency contact information.
Being aware of local transportation options, currency exchange facilities, and popular tourist attractions can enhance the overall travel experience. Additionally, travellers should stay updated on any travel advisories or safety precautions issued by their home country or Antigua and Barbuda authorities.
Antigua & Barbuda Citizenship By Investment Program
The Antigua and Barbuda Citizenship By Investment Program (CBI) provides individuals with various investment options to obtain citizenship. These investment options serve as a means for applicants to contribute to the country's development while also securing their own citizenship. Here are some key investment options available:
Real Estate Investment
One of the investment options for second citizenship under the Antigua and Barbuda CBI program is investing in government-approved real estate projects. To qualify for citizenship, individuals must make a minimum real estate investment of US$400,000. This investment should be in a property that meets the government's criteria and is designated as an approved project for the program. In addition to the real estate investment, applicants are also required to pay applicable government processing and due diligence fees.
National Development Fund (NDF)
The National Development Fund (NDF) is a key avenue for obtaining citizenship in Antigua and Barbuda. Applicants can make a non-refundable contribution to the NDF, starting from US$100,000 for a single applicant or a family of four. The specific contribution amount increases for larger families or additional dependents. This contribution is used to fund various national development projects, such as infrastructure improvements, education initiatives, and healthcare advancements. In addition to the contribution, applicants are required to pay processing fees and undergo due diligence checks.
Contribution to the University of West Indies (UWI) Fund
Another investment option available is the contribution to the University of West Indies (UWI) Fund. This fund supports the regional educational institution and provides scholarships and other educational resources. The required contribution for this option starts from US$150,000 for a family of six, including processing fees. Additional fees apply for larger families or dependents included in the application.
Note: It is imperative to understand that the specific investment amounts and visa requirements here may be subject to change, so it is advisable to consult official government sources or reputable immigration consultants to ensure the most up-to-date information before proceeding with any investment option.
Antigua & Barbuda Citizenship Benefits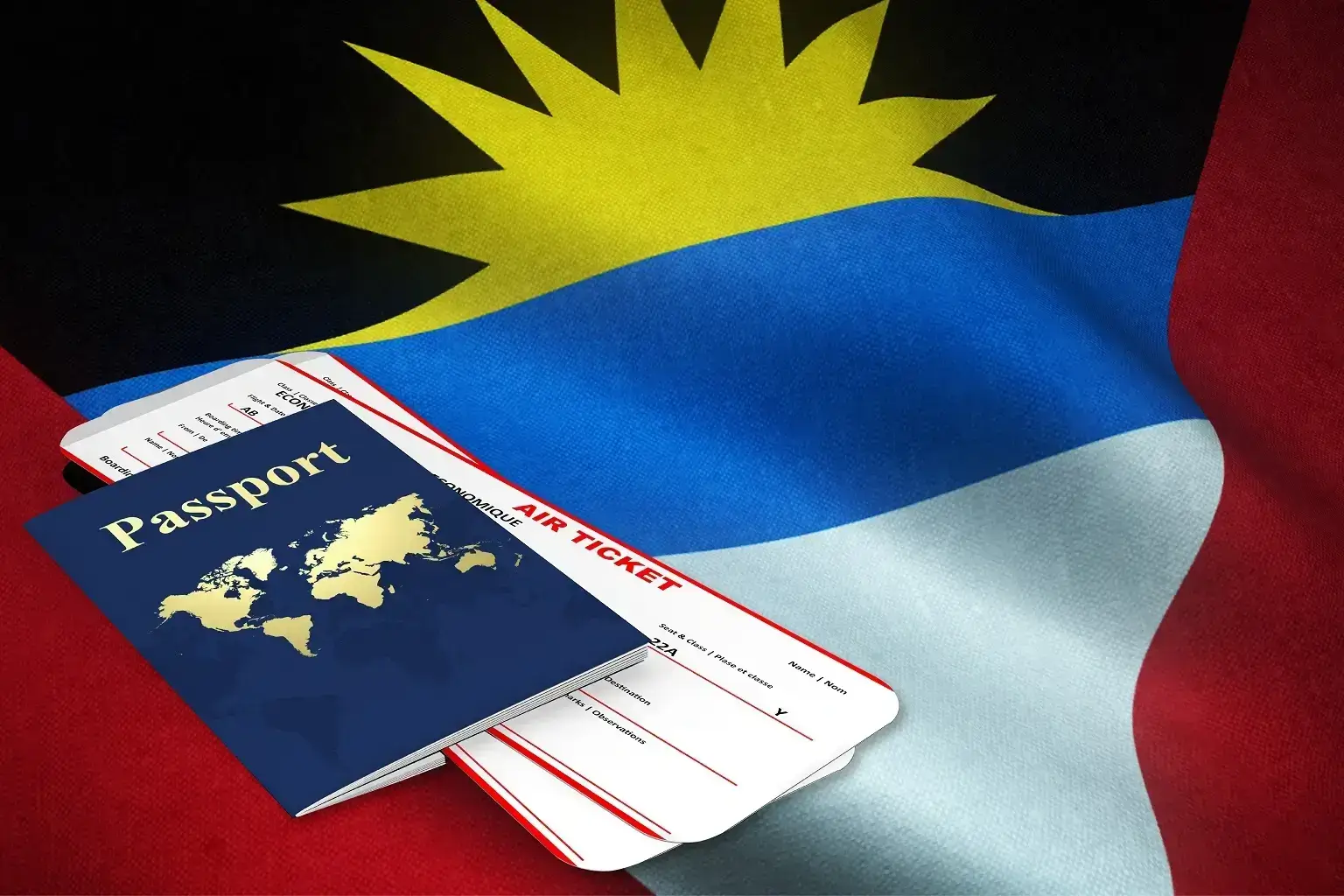 The Antigua and Barbuda CBI program has gained significant traction due to its appeal to individuals seeking enhanced global mobility and expanded business opportunities. The program's provision of visa-free or visa-on-arrival access to numerous countries is a compelling advantage for those looking to travel easily for business or leisure. Not only this, acquiring an Antigua and Barbuda passport and citizenship through the program brings forth several notable benefits. These include:
Antigua & Barbuda Visa-Free Travel
Visa-free travel to other countries for Antigua and Barbuda offers several advantages. Firstly, it simplifies the travel process by eliminating the need to apply for and obtain a visa in advance, saving time and effort. It also reduces travel expenses as visa application fees are waived.
Investment Opportunities
The program offers individuals the chance to invest in approved real estate projects or eligible businesses in Antigua and Barbuda. This provides not only potential financial returns but also the opportunity to contribute to the country's economic development.
Education and Healthcare
Antigua and Barbuda citizenship grants access to high-quality education and healthcare systems. This benefit is particularly attractive to families looking for excellent educational opportunities.
Tax Haven
Citizenship of Antigua and Barbuda offers individuals the advantages of a tax haven, providing a highly appealing financial environment. As a citizen, individuals can benefit from a range of tax advantages, including the absence of taxes on global income, wealth, and inheritance.
Dual Citizenship
Antigua and Barbuda allows dual citizenship, enabling applicants to retain multiple citizenships and antigua and barbuda citizens enjoy the associated benefits.
Lifetime Citizenship
Antigua and Barbuda CBI program grants lifetime citizenship to citizens, providing security and flexibility for individuals and their families.
Stable Economy
Antigua and Barbuda boasts a stable democratic government rooted in the British parliamentary system, ensuring a conducive environment for economic growth and prosperity.
Conclusion
Antigua and Barbuda's visa-free travel policy not only enhances convenience but also opens up a world of opportunities for eager explorers. By welcoming tourists without the need for a visa, the country demonstrates its commitment to attracting a diverse range of visitors and fostering global connections. The simplified arrival visa and entry procedures save time and effort, allowing travellers to focus on making unforgettable memories in this tropical paradise.
Moreover, the financial benefits of visa-free travel should not be overlooked. By eliminating visa fees and reducing administrative burdens, Antigua and Barbuda encourages tourists to allocate their resources towards experiencing the vibrant local culture, indulging in delectable cuisine, and engaging in exciting activities such as sailing, diving, or hiking through lush rainforests. The saved costs can also be channelled towards exploring the islands' hidden gems or supporting local businesses, thus contributing to the sustainable growth of the country's economy.
While enjoying the breathtaking beaches and diverse landscapes, visitors should keep in mind the importance of respecting local regulations and customs. Familiarising oneself with local laws, cultural norms, and environmental conservation practices ensures a harmonious and respectful travel experience. By approaching their journey with an open mind, visitors can engage with the warm and friendly Antiguan and Barbudan communities, learning about their traditions, folklore, and heritage.
Antigua and Barbuda visa-free travel policy is a gateway to a mesmerising Caribbean adventure. This enchanting destination offers a harmonious blend of natural wonders, rich history, and warm hospitality. By embracing this opportunity, travellers can create cherished memories, support the local economy, and forge lasting connections in this slice of paradise.
Start your application with us today!
Fill out the form below and one of our top experts will shortly reach out to you.
Premier Consultancy's team of professional immigration consultants are known for their expert industry advice and for developing an empathetic understanding of client circumstances to deliver results that exceed expectations. Having delivered 500+ passports to extremely satisfied clients, we take pride in our hard-earned reputation as a provider of world-class immigration services.